News & Event Reports
Pomeroy Trophy, Silverstone 20 February
This event fell the day after Storm Eunice, fortunately the wind had dropped but it was very cold with some heavy rain at times.

The day began with the auto tests, with the competitors having to demonstrate their parking ability, brake and acceleration tests. After all 3 groups had completed this they then had to complete as many laps of the full GP circuit as they could in 40 minutes.

It was free entry, we could park right inside the circuit and spectators were allowed inside all the pit garages to get close up to the cars and chat with the drivers. It was a great day despite the weather.

Shows co-ordinator
Unfortunately we have not had any volunteers to fill the role of shows co-ordinator. In the meantime, we have decided to set up a Whatsapp group for any members who are interested in attending shows so that anyone who hears of a forthcoming show can post the details for other members. If you would like to be included in the Whatsapp group, please email your mobile phone number to [email protected]
AGM 8 October
At the AGM our members voted to accept the committee's proposals to bring the club up-to-date and focus our communications to members via email, our website and our social media pages (more to follow on this in the near future). We also took the opportunity to review the committee positions and make these relevant to the work that is required to run the club effectively. The committee for the forthcoming year are:
| | |
| --- | --- |
| Treasurer | Lisa Bagshaw |
| Membership Officer | Hazel Beckett |
| Commications, website & social media officer | Karen Jones and Andrew Fisher |
| Shows co-ordinator | Vacancy |
George Bentley and Peter Read have kindly agreed to organise our social events, but they will not form part of the committee.
We are very keen to fill the role of the shows co-ordinator as soon as possible to enable us to offer members a range of shows and events to attend throughout the year. To be clear, this role does not mean you have to organise every show! Nor would you need to attend every show. You would just need to put together the list of the events, obtain the relevant entry forms and distribute these to members as required, arrange a club stand at shows where this is allowed (usually only 2 - 3 per year) and organise a meeting point for those who wish to travel to the shows together. We are happy for this role to be shared and could be a non-committee position if desired. If anyone has any quesions about the role, please contact Karen.
Arlene Chambers has decided to stand down from the committee after holding the position of membership secretary for many years, prior to that the post being held by husband Graham. In recognition of their extensive service to the club, over 30 years, the commitee has made both Graham and Arlene honorary members.
Thanks was also extended to Dave Davies for his services to the club over many, many years.
Hyde Hall Show 15 August
It was an early start for most of us to make sure we got in before they closed the side gate they were using to allow the classics into the display area, but it was definitely worth it. There were a good number of vehicles on display and the gardens are always well-worth a look round (even if it is a hard climb up the hill!)
The club stand was well represented with a good variety of vehicles which created a great deal of interest among the visitors. It was great that new members Ian in his Herald Estate and Martin in his immaculate TR6 were able to join us and to top the day off our very own Ray and Hazel won the car of the show with their Roadster.
Club Night 1 July
It was lovely to be back at The Duke of Wellington after such a long time and to be able to see other members in person rather than via Zoom. We had the conversatory area reserved just for us, so there was plenty of room to spread out and it was lovely to see a few Triumphs in the car park. Thank you to those who ventured out, hope to see a few more of you next month.
Cressing Temple Show 27 June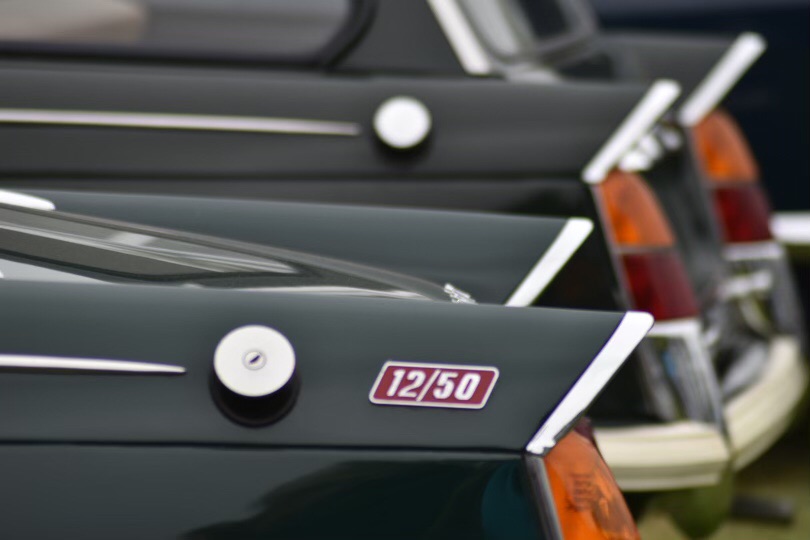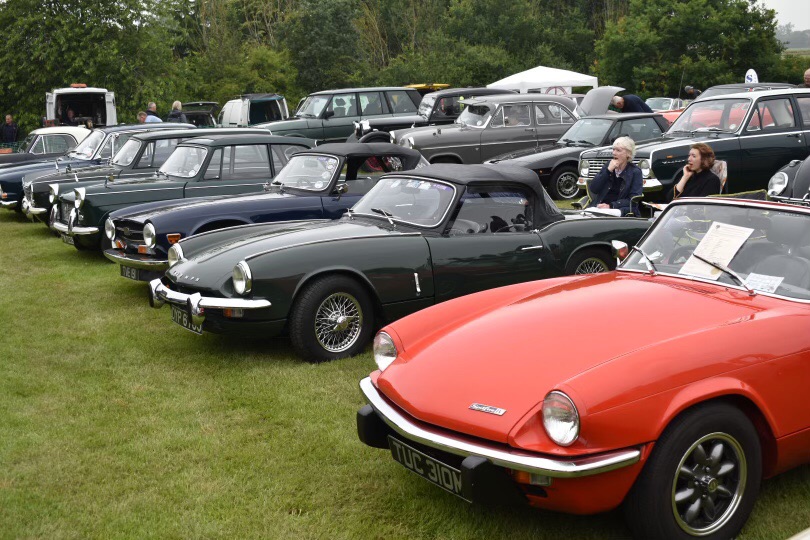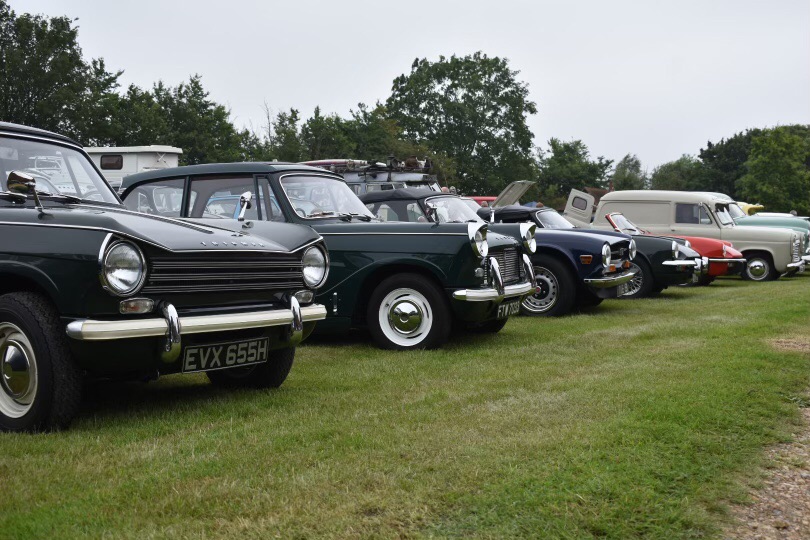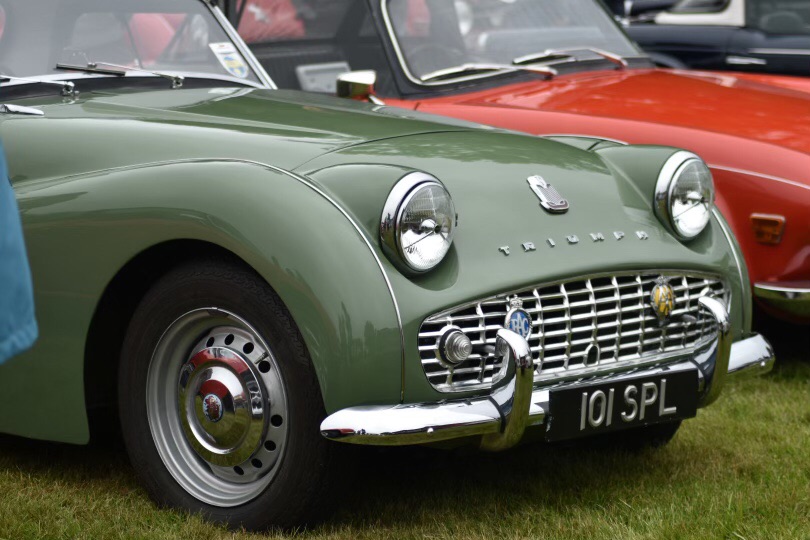 Photos courtesy of Tony and Lynda
AGM
Our AGM is usually held during our January club meeting, but in view of the current COVID-19 restrictions the committee has decided to postpone this. it is our intention to hold this late Spring/early Summer but will announce further details in due course.

Reinstatement of club nights
I have been liaising with the landlady at The Duke of Wellington and am pleased to say that we are now able to recommence our club nights with effect from 6th August; the conservatory is booked for us from 7pm.
We will have the conservatory area to ourselves, but there will be a few changes to comply with current COVID-19 best practise:
Entry should be made through the front door of the pub

Please go straight through to the conservatory on arrival

Staff will then come to your table to take your food/drink order

People from two households are able to sit on one table. Once you are seated this will be your seat for the night and you are requested not to move to a different table (or stand next to a table to chat to people). Tables are 1m apart, so it should still be easy to have a conversation with different groups of people.

All waiting staff are wearing masks and there are cleaners constantly working.
We appreciate that some people will be shielding or don't feel comfortable venturing out at the moment and of course we understand and support this, but I do hope to see some of you there.
Karen
Drive It Day visit to Stoneton Abbey 26 April 2020
Despite our National Trust membership having expired, we were delighted when the DID was revealed to be Stoneton Abbey, a high class NT property which is literally on our doorstep.

Our journey took no time at all, and must confess, I didn't miss having to map read which (this may surprise you) does sometimes cause a tad domestic turbulence. With the TR having had her pre-run polish, the gleam of her bodywork remained perfect as the weather just couldn't have been better.

As we were so close to home, we didn't have to worry about having a few glasses of Pimms, and decided to leave the car there overnight. The National Trust officianado took some persuading I can tell you, but after plying her with a few Pimms, she was more than happy to oblige. The only snag was she insisted on joining us and almost drank us dry.

We were glad to spot a Triumph Coupe in our select area, and found that the owner also lived within a Stone's throw. She and her husband also enjoyed a summer picnic washed down with Pimms so we all got on like a house on fire. It was becoming clear the membership of the local AA (and I don't mean the Automobile Association) must be well supported.

As is often the case with National Trust properties, the gardens were exquisite (reminder: this is a work of fiction) with some wonderful splashes of colour. A stroll/totter round the grounds was so enjoyable, even hilarious, specially when our new friends said we should visit their garden when she learnt Richard was keen on British birds. She had a large bird feeding area and was so proud of her Great Tits. We were more worried about her big end which she mentioned was not what it used to be.

But seriously folks, we are looking forward to the day when we can all meet up for a lovely day out, enjoying our cars and each other's company. In the meantime, keep well, keep safe and keep in touch.

Jenny and Richard (Stone)

National stay at home motor show
See www.classicsforcarers.com/joining-instructions for further details on this event
Virtual Drive It Day 26 April 2020 - Every pun intended
Well, this is one Drive It Day to remember - we will torque about this for years to come. We all want to be out on the open road, hitting top gear, navigating our way in a handsome convoy....... But heyho, this year it doesn't matter if your battery is flat, your trunions are all bent and you feel piston broke.
But wheel do our best to radiate a smile. Riley? Yes, Riley. What a load of old Capri you might say, but moaning and groaning leads to putting the brakes on our energy and leads to a decline of drive. We are here to indicate a little sunbeam onto the situation.
So don't lounge about - not good for your big end, chassis and upholstery in general. Don't be a dipstick......Vauxhall all the fuss about? If the weather is good, get out for a walk at least (hopefully gaiters won't be needed), and remember all the happy times shared on previous Drive It Days.
And when we do all meet up again, what a triumph it will be.
Keep well, keep safe,
Jenny and Richard
A huge thank you to Jenny and Richard for their fabulous poem and for sending over the majority of the below photos. I've just added in a recent one of my TR7 after a good clean up and one of me with it at a previous drive it day several years ago when we were asked to dress to match the year of our cars.
Virtual Drive It Day
As per the below statement from the FBHVC, we will be partaking in in a virtual Drive It Day this year. Please post pictures of your classics either from past years' Drive It Day events, or photos of you at home with them either on the club's facebook page or email them to [email protected] for inclusion on the website.
Federation of British Historic Vehicle Clubs updated statement on Drive it Day 2020
#DriveitDayMemories
The FBHVC is committed to following the latest UK Government advice on events and public gatherings pertinent to our member clubs and as such, the following statement replaces all previous correspondence regarding National Drive it Day during this fast-moving situation.
In response to the updated guidance and restrictions issued by UK Government, the Federation recommends that all activities that involve taking a historic vehicle out on the road specifically for the purposes of Drive it Day, now be abandoned. All enthusiasts are now urged to stay at home on 26 April 2020 and not partake in any non-essential travel for Drive it Day and instead, get involved in a nationwide social media campaign to spread positivity around historic vehicles during this difficult time.
Currently, UK government are advising against all non-essential social contact. Our current general guidance to car clubs, that can be found on our website www.fbhvc.co.uk , encourages the cancellation or postponement of meets, events and gatherings of people. Additional advice has now placed restrictions on non-essential travel of any kind.
However, enthusiasts of historic vehicles are still encouraged to participate on 26 April 2020 in the mass sharing, via social media, of images and memories of themselves and their families out and about in their historic vehicles during a previous year's Drive it Day.
Use your chosen social media platform to share images and stories of memorable trips with your historic vehicles or indeed, what you might be working on within the 'self – isolation' of your garage or shed.
The FBHVC are asking for all enthusiasts to share pictures using the hashtag #DriveitDayMemories.
Post your picture on to the FBHVC social media feeds or those of your member clubs. We will be monitoring those social feeds and public posts published with the #DriveitDayMemories hashtag will be gathered onto a special area within the FBHVC website galleries in the future.
As previously stated, with such a crowded event calendar, the possibility of achieving consensus for a revised Drive it Day date later in the year will be virtually impossible. Therefore, Drive it Day 2020 will not be re-scheduled for later this year, but will resume its normal format on 25 April 2021.
For the latest advice for car clubs, events and other news – keep up to date via the Federation news pages at www.fbhvc.co.uk .
COVID-19
In view of the current recommendations, the committee have taken the decision to cancel or postpone all club events planned until the end of April. We will regularly review the ever-changing recommendations and make future decisions accordingly and as soon as it is safe to do so we will re-arrange dates for George's sausage and mash night and the run out/pub lunch that Peter had kindly organised.
I hope some of you are still able to get out in your cars and enjoy them. We can still interact via the club's facebook page and if you have anything you would like put on the website please do email it to me at the club's email address: [email protected]
Stay safe and look forward to seeing you all again soon.
Rimmer Bros announcement:
We are running a TR2-6 sale until the 8th March.
Loads of TR parts and accessories at discounted prices!
To get the special prices use this web link https://rimmerbros.com/content--name-TR2-6-Sale?src=UK0320W
Lunch meet 23 February
In the rather wet and windy aftermath of Storm Dennis, 21 of us met at The Cricketers in Goldhanger for a Sunday lunch. I was intending on going in the TR7 but as the rain was coming down very heavily when it was time to leave I chickened out and opted to leave her in the garage and take the Fiat instead. Thank you to George for arranging it; looking forward to the next one.
AGM 9 January 2020
The AGM was held during the January club night, the minutes will be available to members in due course, but for now I wanted to confirm your committee for the forthcoming year:
| | |
| --- | --- |
| Chair | David Davies |
| Treasurer | Lisa Bagshaw |
| Club secretary | Anne Lewis |
| Membership secretary | Arlene Chambers |
| Social secretary | George Bentley |
| Shows co-ordinator | Karen Jones |
| Advertising and publicity officer | Andrew Fisher |
| Committee member without portfolio | Paul Bagshaw |
The non committee position of website editor will be retained by Karen (although as mentioned on the night, if anyone has more technical ability and would like to take over this task I'm happy to stand aside).
Christmas lunch 1 December
As we had great food in lovely surroundings for the 60th anniversary celebrations, we decided to go back to the Ivy Hill Hotel for this year's Christmas lunch and we certainly weren't disappointed. The food was fantastic and the venue was festively decorated. A big thank you to George for organising everything and sorting out the food order in advance to ensure that everything went smoothly on the day.
Guy Fawkes run (without the fireworks!) 3 November
We met up at Boreham services where Peter handed out a route sheet. I set off following Richard and Jackie with Mike behind me in his GT6. It was a lovely 30 odd mile run through the lanes in beautiful sunshine, I had the roof off the TR7, although I must admit the heater was on as well! We ended up at The Six Bells in Boreham for lunch and a natter.
60th anniversary celebrations 1 September
What a milestone for the club to reach! The committee discussions about how we were going to celebrate this were long and hard, with lots of different ideas banded around. In the end, we decided that as we are a car club, the day must involve using our cars so we opted to hold an afternoon tea at a hotel with a nice run through the countryside beforehand.
After approaching several places, George managed to negotiate us a good deal at the Ivy Hill Hotel in Margaretting. Paul and Lisa found some photos from club events going up to around 20 years ago and with a contribution from Gordon Dawkins they put together a lovely display that certainly bought back some good memories for me.
We met at Boreham services and set off for a 32 miles run through some lovely country lanes before arriving in Margaretting ...... apologies to everyone who was following the route as I got my left and right in a muddle which necessitated an about turn in a supermarket carpark in Writtle (it wouldn't be the same if we didn't go wrong somewhere along the way!) Mistake aside, it was a lovely day and good to see all the Triumphs out.
Hyde Hall show 18 August
I left Colchester in bright sun so the roof was down on the TR7 and it was a lovely drive to Hyde Hall. Kevin was already there in his Spitfire when I arrived and soon afterwards everyone else arrived and the club stand was full. I was in two minds about whether it was worth putting the gazebo up, but was very glad we did when there was a heavy down pour a bit later! I was slowest to put my roof up so missed out on a space in the gazebo but fortunately I'd got a golf umbrella in the boot so managed to stay more or less dry. The rain didn't last long and it was soon sunny again so we had a wander round the cars on display. As this event is only open to club stands and not individual entries it does attract some more modern vehicles that you'd see at the classic car shows we usually attend including Aston Martin, Porsche, Mercedes and Morgan, as well as a good display from the TR Register who were our neighbours for the day.
I think most of us had a good wander round the gardens and the shop and enjoyed a nice relaxing day.
Maldon Show 7 July
It was a bit chilly when I left home at 7:30am (what time is that on a Sunday?!) and blasted down the A12 to Hatfield Peverel where the roads were a bit damp and looked like it hadn't long finished raining. There were quite a few cars already in position when I got to the prom and the others soon arrived and helped get the gazebo up and in position. Thankfully Dave and Lesley had come along in the brown Dolomite to break up the sea of red and green!
Although it was quite cloudy and breezy for parts of the day, the rain held off and the sun put in a few appearances. Once again it was a really great show with a good variety of cars on display, definitely one for the calendar for next year.
Used car awards 6 June
It was a lovely warm evening so I decided to put the roof down on the TR7 before leaving work (for the first time this year!) I arrived at the pub and Peter and Maureen's Peerless was already in the carpark along with Tony B's MKIII Spitfire.
Before long a few more classics arrived and we began the voting. Each person present votes on every car not only based on the overall condition of the vehicle, but on the annual mileage as well. The non-Triumph category was taken by Peter and Maureen's immaculate Peerless and the top three among the Triumphs were as follows:
3rd Dave & Lesley's Dolomite with 205 points
2nd Richard and Jenny's TR4A with 208 points
1st Tony B's MKIII Spitfire with 217 points
It was great to see new member Kevin's lovely Spitfire (which finished a very close 4th), hope to see you again soon.
I even enjoyed the blast back home down the A12 with the roof down, although I have to admit I did put the heater on for a while!
Peter Best Insurance Drive it Day breakfast meet 28 April
With several different Drive It Day events going on it was difficult to choose which one to support, but this year I thought I'd go along to Braxted Park to the Peter Best Insurance breakfast meet. It was a morning only gathering with a free bacon roll and cup of tea or coffee ..... what more could you want! Well, it would have been better without the drizzle and a bit of sun!
There was a good range of vehicles on display from classics right up to modern supercars and I enjoyed having a wander round them all. It was good to see a few club members come along as well, Graham and Arlene were in the Vitesse, Richard and Jenny in the TR4 and Paul and Lisa in the Herald. Not to mention Nigel and Reg who were marshalling for The Chelmer Valley Drive It Day event who were using Braxted Park as a comfort stop.
We had a wander round the garden which was very pleasant and well kept before wandering round the cars again.
Coalhouse Fort show 31 March
With the beautiful weather the day before, I'd been planning to get the roof down on the TR7 and blow the cobwebs away, but the powers that organise the weather had other plans! I left a very chilly Colchester at 8:30 to head to Boreham in case any other members were daft enough to join me on the run to Tilbury. Then the rain started to come down as I reached Witham and I was questioning why was I doing this!
I arrived at Boreham and waited until 9:30 but no-one else turned up (I'd forgotten it was Mothers' Day when I put this show on the list and I'm sure that's the reason most people couldn't make it).
The sat nav guided me straight to Coalhouse Fort and I parked in the courtyard as directed. There were around 30 cars in position already, but I didn't see anyone I knew so I decided to go for a wander round the outside of the fort. On a hot sunny day it would have been great as there are some lovely views over the estuary to Kent, but it was blowing a gale and I soon decided that was a bad idea and headed back to the cars. By this time DD had arrived in FLY so we went off and got a coffee before having a look round the cars (a few more had arrived by then) and there were a few motorbikes on display too.
We then went up to the buildings at the top of the hill and looked round the war memorabilia. After this we had a guided tour of the fort itself (the parts that are structurally sound).
Your 2019 committee
Thank you to everyone who attended last night, it was great to see a good turn out for the AGM. The minutes will be distributed in due course, so I won't go in to any detail on here, other than to confirm your committee members for 2019:
Magazine Editor - Andrew Fisher
Membership Secretary - Arlene Chambers
Social Events Co-ordinator - George Bentley
Advertising Officer - Andrew Fisher
Shows Co-ordinator - Karen Jones
The non- committee positions for the club secretary and website editor will be retained by Anne Lewis (secretary) and Karen Jones (website editor).
2018 Awards
Prior to the AGM at the club night on 7 February, Dave presented the awards for 2018, as follows:
Car of the Year award went to Peter and Maureen for their Peerless
Special Effort award was jointly presented to George Bentley and Peter Reed
The Clubman's Award went to Richard Stone
The Premier Award to Paul Bagshaw
and finally, my favourite award of all, the Dipstick award. This is presented to the member who has done something particularly stupid during the year (we've really had some very worthy winners over the years!), but this year it went to none other than Dave Davies ....... for arriving at the Battlesbridge show in the pouring rain only to find he'd got his dates in a muddle and was a week early!
AGM will be held during the February club night on 7 February
The AGM gives members an ideal opportunity to have their say on a variety of issues. If you have any proposal for changes to the club rules or constitution, wish to stand on the committee or have ideas/thoughts that may help improve the club's overall operation, simply drop an email to the club ([email protected]) by 24 January and your suggestions will be duly considered for the agenda.
Please do come along as this is a great opportunity to meet and socialise with your co-members.
Brooklands New Year Gathering 1January 2019
Although not particularly bright, it was a mild day and I had an uneventful journey to the meeting point at Thurrock Services where I met with Paul and Lisa in the Porsche and Tony and Lynda in the TR6. Sadly I was letting the side down in my modern car as I have taken the tax off the TR7 for the winter as I didn't use it enough through last winter to justify the cost of keeping it taxed.
We set off in convoy and reached junction 10 on the M25 without issue, then joined a rather long queue to get into the museum. In all the years I've been going to this event, I've never seen queues this long before and following the event Brooklands reported on Twitter that it was a record attendance this year in terms of classic cars on display and general public coming through the gates, so hopefully that generated a good bit of income for them.
We decided to start by wandering across to Mercedes-Benz world for a cup of tea and a visit to the facilities before heading back to Brooklands to look round all the classics. The remainder of the banked race track was packed and there were cars parked on every space piece of land all around the site. As it was Paul's birthday (a special one, but I won't say which!) Lisa had booked us a table in the bistro restaurant where we had a pleasant lunch, albeit the service a bit on the slow side. After this we wandered round some of the long term exhibits but ran out of time to look at everything ..... we'll just have to go back again next year!
Battlesbridge Grand Motorbilia Day 20 September 2018
Once again it was a good turn out for this show which is always popular. Thank you to Paul for booking the club stand and organising us all on the day.
RHS Hyde a Hall Garden show 19 August 2018
The club was invited to attend by the Essex Jaguar Drivers Club. It was an early start for a Sunday and turned out a bit chilly and windy to start with - a jacket was required. During the day members went for a look round the extensive gardens and the obligatory gift shop and plant sales. I know a number of purchases were made in both. The men passed the time looking at the Jaguars, Bentley, Morgans, TRs, Austin 7s, Porsches to name just a few and about 200 in total. After a picnic lunch we sat and talked and various members of the public asked questions about some of the cars. It got quite pleasant as the wind dropped, coats were discarded and ice creams were purchased. By 4.30pm there was a queue of cars to leave all stuck behind a broken down car blocking the exit. Some of us sat it out and enjoyed the warm sunshine for another hour before heading home.
Thanks to those members that turned out to create a great club stand and enjoyed a free visit to the gardens. Hopefully we can do it again next year.
Mystery run and lunch 12 August 2018
Thanks to Peter Read and George Bentley for providing a good drive around the country lanes of South East Essex - ending up at the Hurdlemakers Arms in Woodham Mortimer. Inevitably some of us got lost on the way and groups got split up en route, but everyone made it in time to enjoy a very large Sunday Lunch.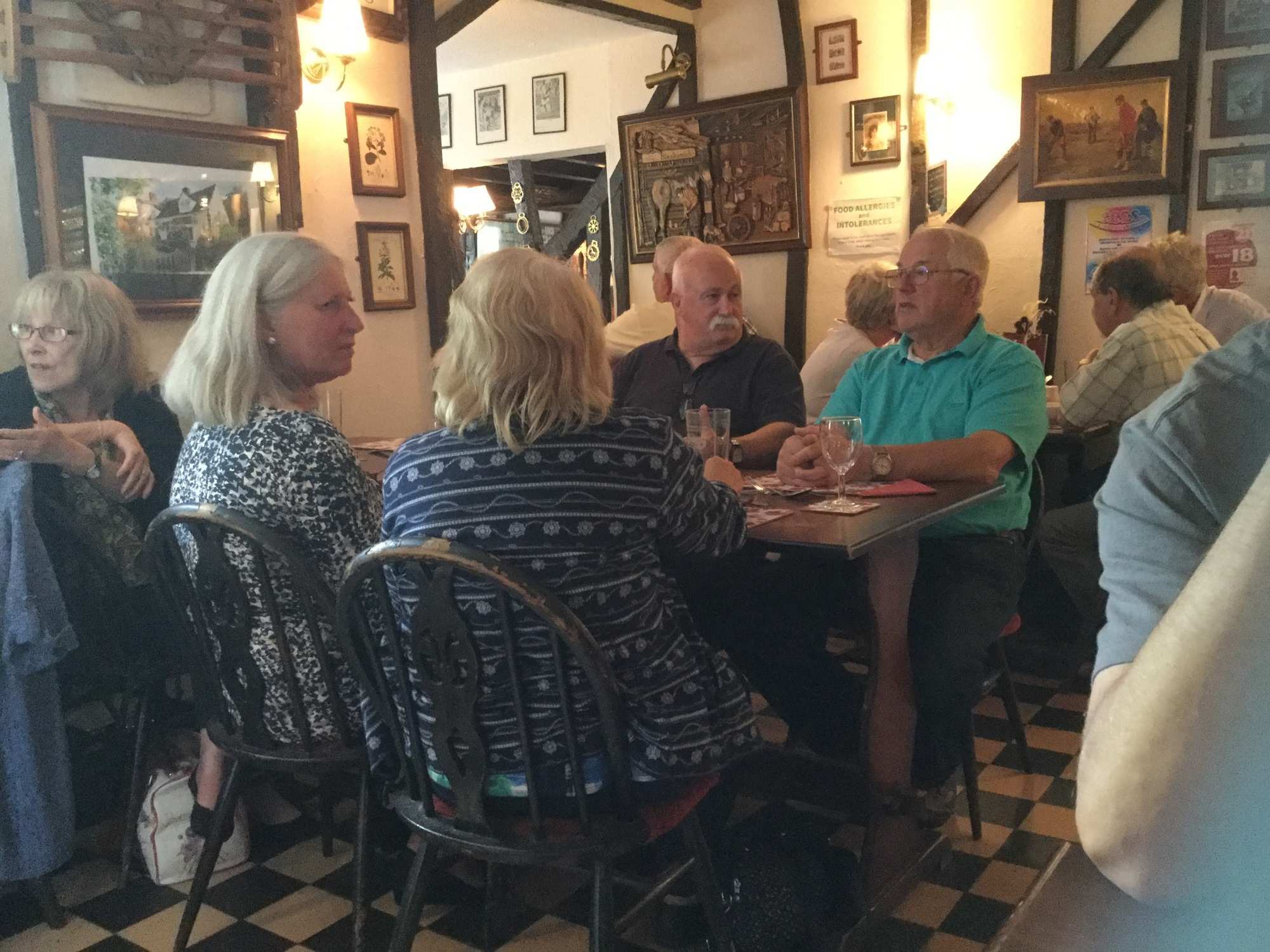 Battlesbridge Show 13 May 2018
I had a debate with myself just before leaving home about whether to put the roof back up on the TR7 or leave it down. I very nearly left it down but decided at the last minute to put it up and boy was I glad I did when I drove through very heavy rain around Witham on the A12. I arrived at the showground and caught up with Tony in his MKIII Spitfire on the track on the way in, perfect timing!
Before long the gazebo was up and the kettle was on, shortly followed by the bacon and eggs! Unfortunately we were short of numbers as 4 that had pre-booked a space decided against it in view of the weather. As it turned out, it was quite a nice day with no more rain. Paul,Tony and Phil spent the majority of the day searching out the bargains in the autojumble and George, Richard and Jackie paid a visit to the antiques centre. We had a few visits from CTE friends and former members throughout the day and before I knew it it was time to pack up and head for home.
Drive it day 22 April 2018
What a gorgeous sunny day, it made leaving home at 7:30 a little less painful! I met up with Paul and Lisa en route and we arrvied at Sutton Hall and parked up amongst all the other cars ready to partake in the run. As always, the cars were flagged off in small groups so we had a bit of a wait before setting off. The route was through lovely countryside, taking around 2 hours to finish at Stow Maries Airfield. I've always intended visiting but hadn't quite got round to it. We were parked up close to the runway and they had some old planes out on display. After some lunch we wandered around the cars on display and then over to the buildings to learn about the airfield's role in the first world war.
Essex car clubs quiz in aid of the Air Ambulance 18 February 2018
For the 8th successive year, CTE organised a quiz between local classic car clubs to raise funds for the Essex & Herts Air Ambulance. Over 60 people attended representing Club Triumph, Essex Imp Owners Club, Chelmer Valley Car Meet, TSSC and Club Triumph Eastern. After a two course meal there was a 7 round quiz and raffle. The total amount raised on the night was a fantastic £570. The winners this year were the mens' team from TSSC and the winners of the wooden spoon were from Club Triumph Eastern.
New Year mystery run 21 January 2018
I had intended on going in the TR7, but it was a grey and miserable morning and rain was forecast I decided to leave it in the garage and go in the Fiat instead. During my journey to the meeting point at Boreham Services it started to snow. George along with his Grandaughter were the only ones brave enough to come in a classic,well done you two! There were 15 of us in total and we made our way through Gt Dunmow and on to The Fox at Finchingfield where Dave had booked us in for lunch. We arrived rather earlier than anticipated, but the pub was open and able to serve us coffees before they could officially serve us at noon. I think we all opted for a roast, and very tasty it was too. The snow had been falling the whole time and was beginning to settle on the roads, but it was turning to slush as soon as you drove over it, so didn't cause us any issues.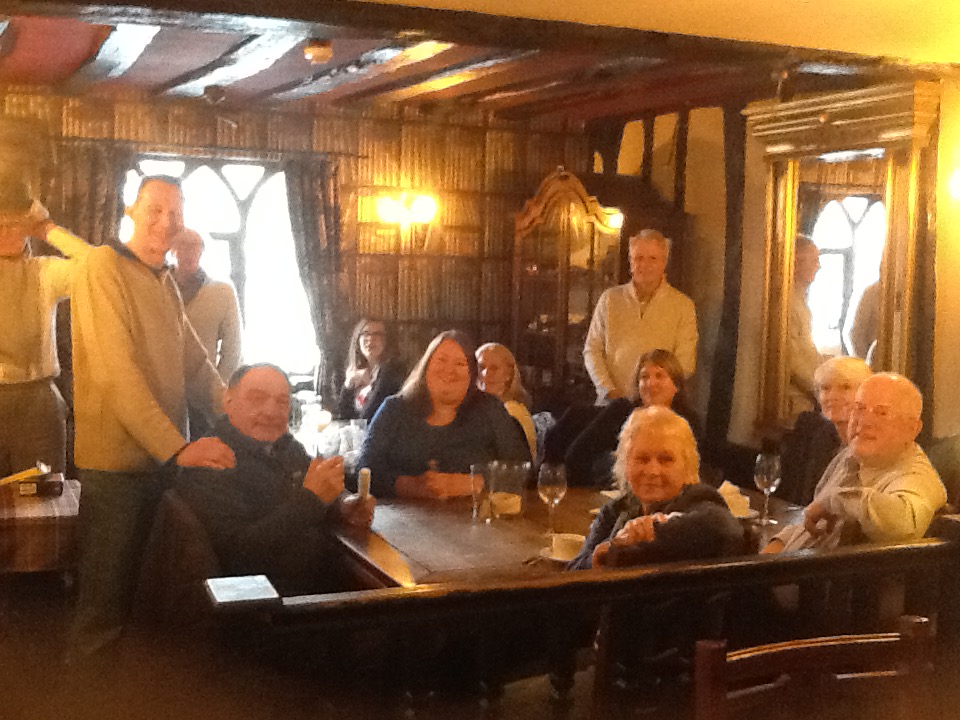 AGM postponed
Due to illness we were unable to hold the AGM during the January club meet, it will now be held during the February meet on 1 February at the Duke of Wellington, Hatfield Peverel.
New Years' Day gathering at Brooklands
The journey only took around an hour from Thurrock Services and was brightened by several classics along the route. I was in my modern car this year as the TR7's headlights aren't always reliable and I didn't want to risk having to drive home with only one working. There were lots of cars already on display within the grounds with some of the famous banking. I was last at Brooklands 2 years ago and in that time they have demolished the old hanger that was on its last legs and built a fantastic new hanger that houses the Wellington bomber and other aircraft related displays. It really is a great day out with lots to see and do.
April 2018 - Weekend away next year?
Dates for a CTE weekend away at Wroxall Abbey Hotel in Warwickshire are either 13 - 16 April or 27 - 30 April. Price for a double room, breakfast and evening meal for 3 nights in a double room would be in the region of £225 - £250 per person and a single room would be £420. If you are interested in this event please contact George Bentley.
Battlesbridge grand motorbilia day 24 September 2017
It was a little bit chilly when I left home just after 8am, but as I was expecting it to be the last opportunity of the year to take the roof down I put my coat on and went for it. I overtake a few other classics on the A12 on the way, but there were a good number heading in the opposite direction once I got closer to Battlesbridge - it was the show at The Warren on the same day. There was a small queue to get in, but nothing much. I arrived at the club stand just in time to put the gazebo up and before long Tony and Paul got the bacon butties on the go. It turned out to be a lovely sunny day and there were plenty of classics on display.
Epping and Ongar Railway car show 3 September 2017
I met up with Tony, Paul and Nigel in Chelmsford and we had a steady drive down the A414 to the North Weald station and were parked up with the kettle on in no time. Shortly afterwards DD and Steve Hall arrived. The organisers said they were expecting 70 cars, but I don't think there were quite that many, although there was a nice mix. After a bacon sarnie we went on a bus ride on the green bus that's pictured, initially we just went a couple of miles up the road and back to North Weald, but then the bus went on to Shenfield and back so we stayed on for the tour of the scenic countryside. When we got back it was lunch time so the gas stoves came out again and we had sausage and onion sarnies followed by lemon cake .... we don't go hungry! In the afternoon we then wandered up to the platform where they were doing rides on both steam and diesel trains. We opted for the steam train which I understand was one of the ones that was on the underground lines when they first opened. All in all it was a lovely relaxing day and the rain held off until after I got home which was even better!
Change of venue
With effect from 7 September 2017 our monthly meetings will be held at the Duke of Wellington, The Street, Hatfield Peverel, Chelmsford, CM3 2EA.
There is ample parking and food is available. You'll find us in the main bar for the September meeting, but for subsequent meetings we will have our own area.
We appreciate that this is some distance from our pevious venue, but we feel this venue better suits our needs and is conveniently located a short distance from the A12. We hope that our regular attendees will continue to join us and we look forward to seeing members that we haven't seen for a while.
Run to Thaxted 13 August 2017
We met at Boreham services at 11:30 for George and Peter's mystery run. It was lovely to see everyone topless, first time for me this year I think! Peter handed out the route and we set off in small groups initially heading out towards Great Leighs, our final destination being The Swan at Thaxted. Although I don't think anyone followed the correct route in its entirety we all made it to the pub without any problems. It was great to see so many club members along with George's grandaughter and Richard and Jenny's two grandsons. After a very enjoyable lunch most members had a wander round Thaxted before setting off home. A big thank you to George and Peter for arranging it for us all.
Silverstone Classic 28 - 30 July 2017
After many years of promising myself that I'd go to the Silverstone Classic and not making it for one reason or another, this year I finally did and I certainly wasn't disappointed! As most of you probably know, I'm a volunteer grandstand steward at Silverstone, so when the events schedule came through and they were looking for our assistance I couldn't say no. We never quite know where we're going to end up and often the plans are changed at the last minute if some volunteers don't turn up for whatever reason, so I was trying not to get too excited about my posting when I got the final details around 2 weeks before the event. I was due to be on the Paddock Club grandstand for the whole weekend. For those that aren't quite as "anoraky" about the circuit as me, that's the one on the inside of the track next to the huge wing building that overlooks the first few bends after the start finish straight. Part of my excitement about being posted here was that this is the only event that this grandstand is open to anyone, it's usually reserved for the hospitality attendees who've no doubt paid handsomly for their tickets.
I arrived on the Thursday afternoon to set up my tent and was grinning from ear to ear as I drove through the campsite. There were an awful lot of classics next to tents and caravans and I was pretty pleased that I'd taken the decision to go in the TR7, even if it did just sit in the campsite all weekend.
Inside the circuit there were displays for just about every car club you could name and Triumphs were in abundance. On the track there was action from pre-war sports cars, historic F1, pre '56 sports cars, super touring cars, group C cars, etc, etc.
To take you around the circuit to the different grandstands and various displays etc they were running Routemaster buses which was fabulously in keeping with the whole event.Unfortunately my photography skills let me down and all I ended up with was photos of the track, some with the fencing in as well, so no photos ..... you'll just have to come along next year and see for yourselves!
Karen
Cream Tea afternoon 22 June 2017
What a gorgeous summer we are enjoying and when George suggested a cream tea at Heybridge Basin, we thought yes please! Being by the water in hot weather is the place to be isn't it, and how nice it was. Twelve of us enjoyed fabulous scones, jam and cream, washed down with Assam tea from teapots that didn't drip. But that is what you would expect from the Tiptree jam chain of tea shops after all.
A stroll along the quayside and then, well, have you seen the Humphrey Bogart film, "The African Queen?" That little boat that chugs along in that film was not unlike the one we all decided to board for a cruise down the Chelmer. It could only take 12 passengers so she was full as we chugged away, sedately heading upstream. Now when I say sedately, so it was, but we did all have a giggle and laugh as you can imagine! Dave Wackett's mosquite bites were real prize winners (previously acquired), and George almost got a date by calling over to two ladies enjoying a glass of wine on their boat.
So let's hope we can do another cream tea soon .... in the meantime, here's to the summer and happy days out in our classics.
Jenny Stone
Club show night June 2017
Our annual show night where the judging takes into consideration the annual mileage as well as the condition.
The only entrant, and therefore winner of the non-Triumph category was George's Mazda MZ5. The top three of the Triumphs were:
3rd Richard and Jenny's TR4A with 276 points
2nd Tony B's Spitfire MKIII with 278 points
1st Peter and Maureen's Peerless with 291 points
Brands Hatch Masters series historic racing May 2017
A sorching day with some great cars on track
Battlesbridge show May 2017
Once again a great day at Battlesbridge and nice to see a good range of Triumphs on display.
Used car awards - 1 June 2017
For one night only CTE will meet at the Duke of Wellington PH, The Street, Hatfield Pevereal, Chelmsford, CM3 2EA. Our annual used car awards will take place during the evening, so please bring your classic car out and see if it wins a prize. From 8pm, ample parking and food is available.
Maldon Motor Show
Sunday 1st July saw the first fully sunny day for what felt like a very long time and as a result lots of vehicle were in attendance at Promenade Park. Below are a few pictures from the day
FBHVC survey
Survey now closed.
Battlesbridge appeal lost
According to the Battlesbridge website they have lost their appeal against the enforcement action taken by Chelmsford City council regarding the use of the showground. However, they can still use the showground for 28 days a year without planning permission. The good news is that they will continue to hold the May classic car show and the grand motorbilia days in September. Both events will be attended by Club Triumph Eastern.

Monte Carlo or Bust Banger Rally
Paul, Tony and Nigel ready for their epic journey to Monte Carlo in a car that cost less than £300.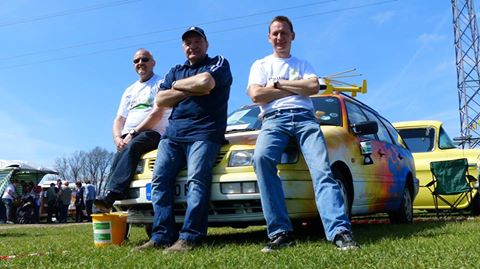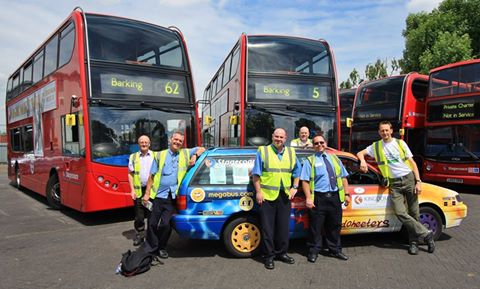 The aim of the trip was to have a good time while raising money for the Essex Air Ambulance Service. If you would like to make a donation you can visit their money giving page HERE.
Or visit the Facebook page HERE.
The Boys set off on Thursday morning (16/7/15) leaving from Barking bus garage to head for the registration point in Saint-Quentin, France. Once in France they took the scenic route visiting a war memorial on the way.
They arrived safely in Saint-Quentin where they registered before heading to the bar for refreshments. Quite a lot of refreshments apparently. Then it was off to bed to get some sleep before the official start at 9am on Friday.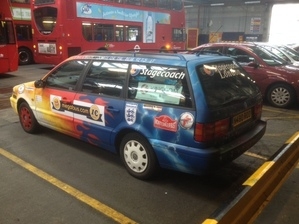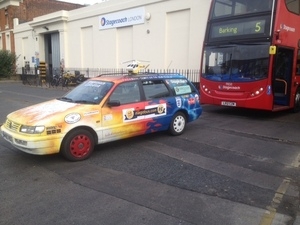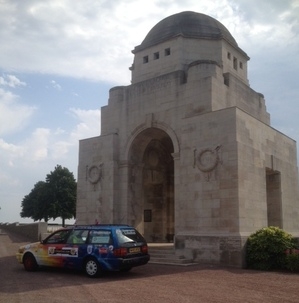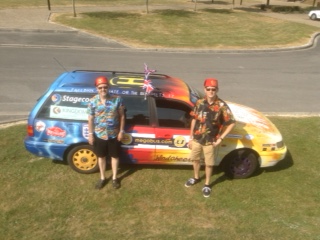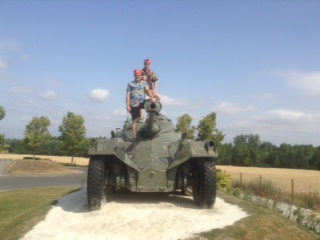 Inter-Club Quiz Night 2015
This years quiz night was a great success due to the 85 extremely generous classic car enthusiasts who attended. As usual there was a great fun atmosphere and the scoring was very close. Club Triumph Eastern almost got a full house when one of our teams won the wooden spoon and the other CTE team came equal first but were pipped at the post by the Essex Imp Owners Club who won the tie breaker question. A representative from the Essex Air Ambulance Service was presented with a cheque for a fantastic £882.
Malta Mdina Rally 2014
Paul, Lisa, Tony and Lynda visited Malta for some relaxation in the sun. Their visit was timed to coincide with the Mdina rally which was held over four days and included a Concours de Elegance, a hill climb and a circuit race.
Inter-Club Quiz Night 2015
The annual classic car clubs quiz night in aid of the Essex Air Ambulance Service will be held at
The Shepherd & Dog, London road, Crays Hill, Essex, CM11 2YA on the 7th February.
This is the 5th inter classic car clubs quiz night hosted by Club Triumph Eastern which has so far raised over £2300 for the air ambulance service.
Entry is £12 per person which includes a carvery meal before the quiz starts.
Teams comprise of up to eight people. We expect around seven clubs to attend and teams are limited to two from each club.
This is a fun night with lots of like minded enthusiasts and not taken too seriously.
Contact Paul Bagshaw through the club email address or the contact us page to book your places.
Chris Georgiakis
Sadly our friend Chris passed away recently. Chris was a well liked and respected member of our club for many years. Our thoughts are with Gloria and their family.
Chris's funeral took place on 30th December at the Basildon & District Cemetery.
The family welcomed classic cars.
Battlesbridge Motorbilia Day 2014
Club member Ray collected the trophy for best car on a club stand at the Battlesbridge Motorbilia Day 28/9/14.
This topped off a very good day with temperatures in the 70s. We had 19 cars on our stand and attracted a lot of interest from visitors. There was hardly a space left in the showground with hundreds of cars on show.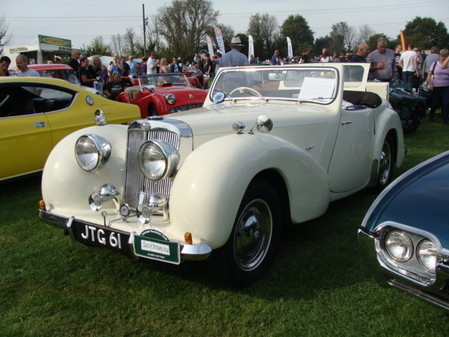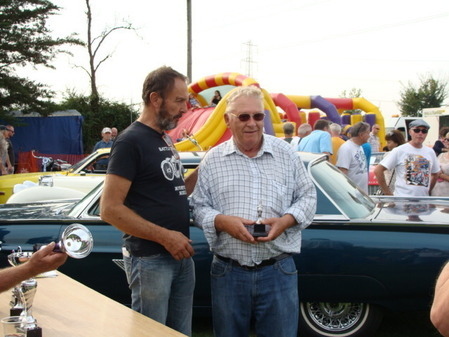 Laon Historique 2015
CTE have secured rooms at the St Vincent Hotel, Laon at 2014 prices.
The prices are £229 per person sharing a room and car on the Dover - Calais ferry
or £429 for a single occupant in a room and car on their own.
To book, contact Scenic & Continental Car Tours quoting Club Triumph Eastern
Tel 01732 879153
Brands Hatch Historic Festival May 2014
Our club parking area was on Clarke Curve looking out onto the start straight. It couldn't have been better. As usual we pitched the gazebo which acted as our field kitchen for the cooking of a lunch of burgers and sausages and the making of many cups of tea & coffee.
There was a great variety of races with just about every type of historic racing. There were also some famous F1 cars on display a walk around the paddocks got us close up to some fantastic racing machinery. The weather was kind and we enjoyed some lovely sunshine for most of the day.
Hedingham Castle May 2014
The Hedingham castle vintage fair was blessed with the best weather of the year so far. Around 70 classics attended this event including eight from our club.
There were many stalls selling various retro clothes and bric-a-brac and some great entertainment from a big band.
Valentines run to Lower Stondon Motor Museum 16/2/14
Considering it hadn't stopped raining for two months we were very lucky with the weather for the Valentines run to Lower Stondon Transport Museum. Fourteen people in ten cars made the trip which started at Boreham services. We did have one short breakdown when Reg's Alpine decided to make his feet wet but a joint effort had us back on the road after about thirty minutes. There is a real mixture on display at this museum. Some cars are in very nice condition while others could do with a bit of TLC. Expensive cars line up alongside everyday stuff and there are motorbikes and military vehicles too. Lunch had been booked at a nearby hotel where we arrived fashionably late and with more people than booked. The manager of the hotel was quite taken by the cars and asked us if we would arrange them in front of the hotel so that he could take a picture for the hotel website.
Full report in the club magazine.
Inter-Club Quiz Night 2014
Yet again the quiz night was a great success and a lot of fun with a packed house full of classic car enthusiasts from several local clubs. The scoring was very close and it was impossible to guess which team would win. In the end it was the MG owners who were the victors and wrenched the title away from the TR Register who had won it for the previous two years. Thanks to the generosity of those who attended, the hard work of the organisers and the manager and staff of the Shepherd & Dog a fantastic total of £662 was raised on the night for the Essex Air Ambulance Service.This was the 4th annual quiz night and the total raised by this event so far is £2344
Photos from the night can be seen HERE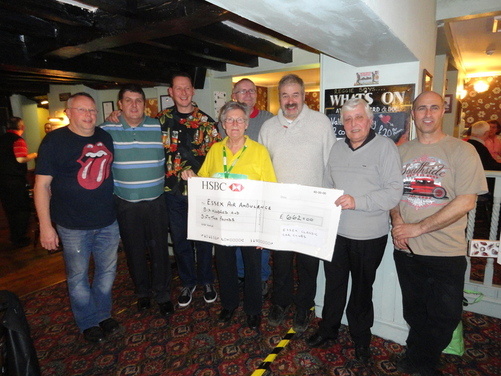 Spa Classic 2013
CTE members took six cars to Belgium for this weekend of classic racing. We had every kind of weather over the weekend, particularly during the Triumph parade lap when it poured with rain. This didn't spoil a great weekend which included the racing, trips to Spa town, Durbuy and the Nurburgring.
Inter-Club Quiz Night 2013
The third annual inter-club quiz night was another fantastic success. Once again The Shepherd & Dog was packed with 100 classic enthusiasts for a night of quizzing fun. After an excellent meal we prepared for the intellectual battle ahead. The clubs involved were Club Triumph Eastern (3 teams), Club Triumph (2 teams), TSSC Essex (2 teams), TSSC M25 East (2 teams), TR Register, Essex Imp owners and The Chelmer Valley Meet (2 teams)
There was a great atmosphere, particularly as the TSSC M25 East teams were split into Boys Vs Girls, and Oh boy did those girls make some noise. It all made for a really fun night. There was a good variation in questions. Thankfully not too many difficult ones. At the end of the night the scores were announced and the winners and retainers of the title were the TR Register. Well done to them.
Well done to everyone else too as you all managed to raise £554 on the night for the Essex Air Ambulance Service.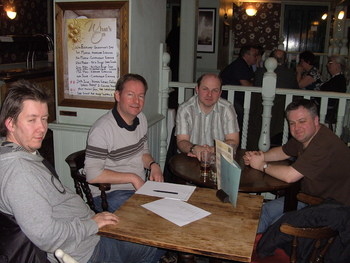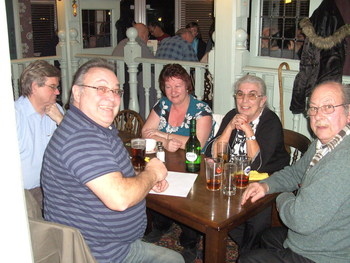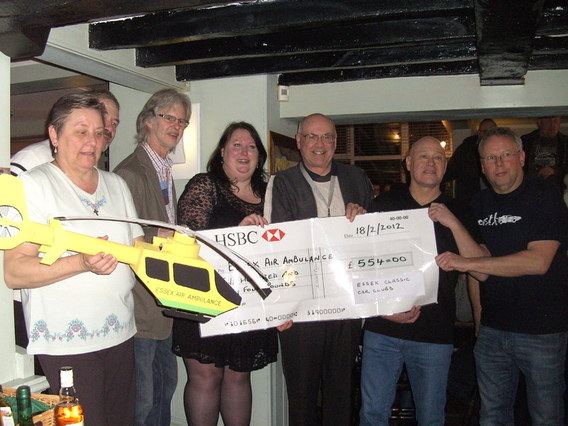 .
Second show, second award
Phil and Annette Browns Vitesse wins yet another award on only its second trip out. This time it was at the All Triumph Show at Duxford.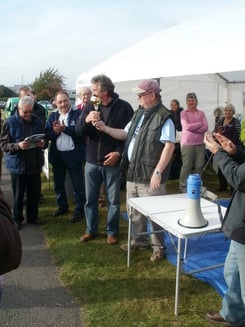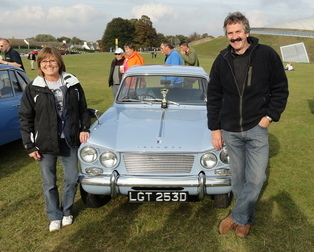 Prize winning maiden show
Congratulations to Phil Brown whose hard work was rewarded when his Vitesse received the highly commended award at Battlesbridge.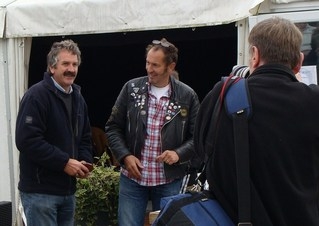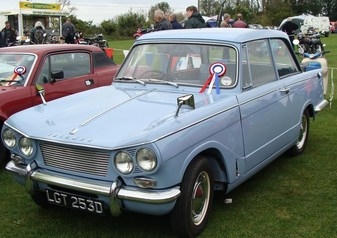 Latest Press
Release from FBHVC
EU Roadworthiness Testing - 23 August 2012
When the European Parliament Historic Vehicle Group (EPHVG) met in May, Szabolcs Schmidt the head of the EC Road Safety Unit, mentioned that proposals for revisions to the Roadworthiness Testing Directive, following a 2010 consultation, were expected 'in the summer'. In July, the European Commission published the detail which turned out to be a proposal to replace the current Roadworthiness Testing Directive (2009/40/EC) with a completely new Directive.
The draft of the new Directive has implications for all motorists, not just historic vehicle owners. Amongst other things, the draft includes requirements to test all trailers (which in turn implies a registration system) and requires tests to make reference to a vehicle's original 'technical characteristics'. The meaning of this expression is not defined. National governments are granted the right to make their own testing arrangements for 'vehicles of historic interest'. A vehicle of historic interest is then defined as one that:
Was manufactured more than 30 years ago

Is maintained by use of replacement parts which reproduce the historic components of the vehicle

Has not sustained any change in the technical characteristics of its main components such as engine, brakes, steering or suspension; and

Has not been changed in its appearance.
FBHVC considers this definition to be unworkable and completely unacceptable. FBHVC also rejects the suggestion that Roadworthiness Testing should relate to a vehicle's 'technical characteristics', whatever the age of the vehicle. Modifications, alterations and improvements are all part of the history of motor vehicles and the older the vehicle, the more likely it is that it will have been altered at some stage. At present the basic tenet of a UK MoT test is that it is one of mechanical fitness. There is no database of original specifications for UK vehicles, so testing to original 'technical characteristics' is simply pie-in-the-sky.
Earlier this month, the Department for Transport asked stakeholders for comment on the proposals. FBHVC will be responding formally to this request when further analysis of the detailed proposals has been completed. FBHVC will be discussing the implications of the proposal with the international organisation, FIVA, and through them with the EPHVG group as well as with the All Party Parliamentary Historic Vehicle Group in the UK.
It should be remembered that this is still just a proposal. It has to have approval by each EU member country before it is adopted. Some media commentary on this topic has tended towards the 'we're doomed' end of the scale. It is certainly a serious issue and FBHVC is treating it accordingly
35 CTE members set off for Faringdon on Saturday morning for a long jubilee weekend away. Brilliantly organised by Lisa and Paul, we enjoyed excellent service from the staff at our hotel and even though the weather tried to spoil things we enjoyed a great weekend. A visit to Blenheim Palace on Sunday saw everyone soaked but it was still a good day out and lunch in the Indian room was excellent. Monday was spent touring the Oxfordshire countryside in much brighter weather and lunch was taken at one of TV detective Morse's favourite pubs, The Trout. The weekend ended on top of Folly Hill for the lighting of the jubilee beacon.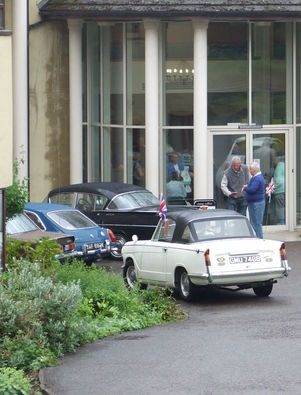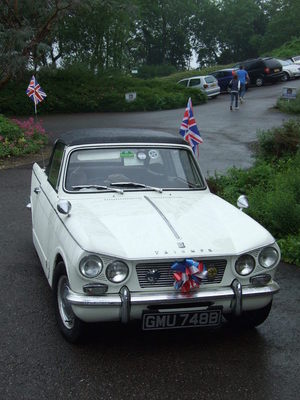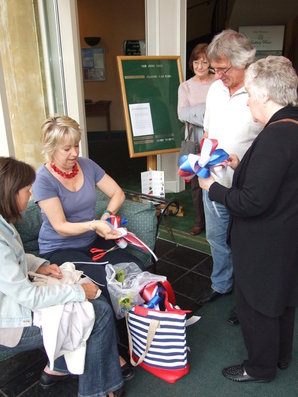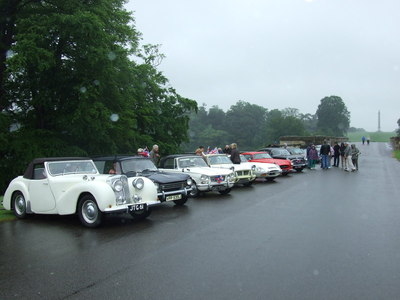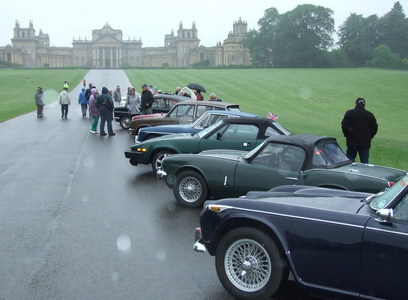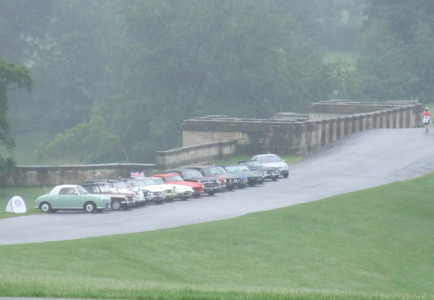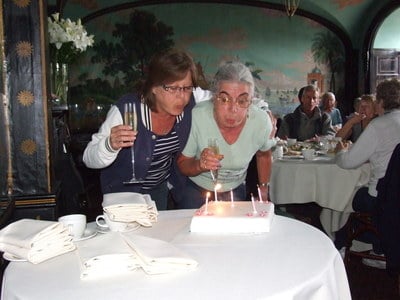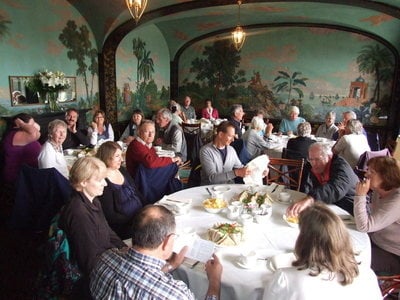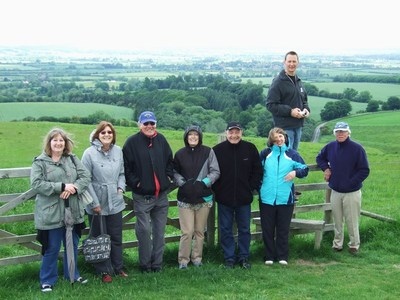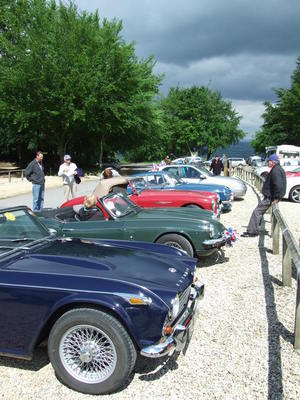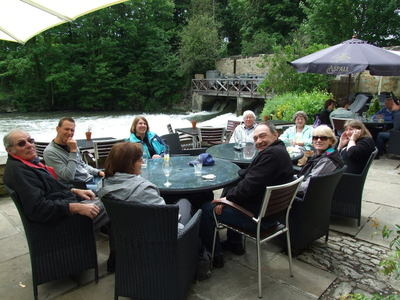 Inter-Club Quiz Night 2012
Once again the Inter-club quiz night saw a packed house at The Shepherd & Dog with one hundred classic car enthusiasts from seven Essex classic car clubs taking part. The generosity of everyone attending and those who donated raffle prizes was excellent and lead to us comfortably beating last year's total raised. When all of the figures had been totted up we were very happy to present the representatives from the Essex Air Ambulance Service with a cheque for £658.
There was a great atmosphere all night, but particularly as the results were announced. Everyone did well but there could only be one winner and this year the title went to the TR Register who received the winners trophy and a bottle of Champagne to celebrate.
Thanks to all who helped make it a great night. The clubs attending were :
Club Triumph, TR Register, TSSC, The Essex Impers, Chelmer Valley Car Meet, BMW Owners Club & Club Triumph Eastern.
More photos HERE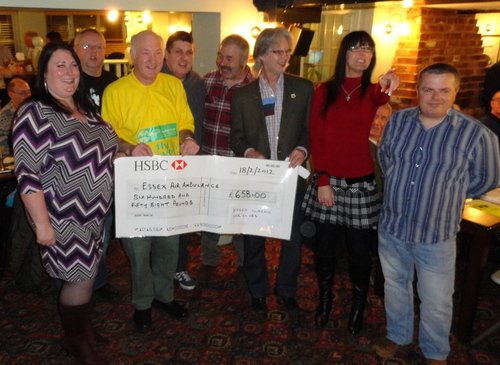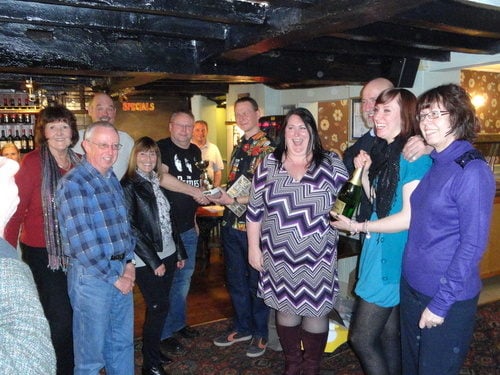 Air ambulance volunteer Ray receives the cheque The TR Register's winning team receive the trophy
NEC Classic Car Show 2011
Twenty five of us travelled together to Birmingham for this annual end of season event. With six halls full of cars it took all day to see them all and visit the trade stands. The club displays were excellent and just about all makes were on show. Triumph cars were particularly well represented with just about every model on display.
Battlesbridge Motorbilia Day
Fourteen cars made up our display for the end season show at Battlesbridge. Lovely weather ensured a good turn-out and the private entry field was full to capacity. The auto-jumble was better than I've seen before and as usual included stalls for bikers and car owners alike. There were a lot of cars at this years show that we hadn't seen before which made it all the more interesting and the live band were good too.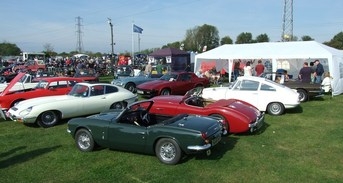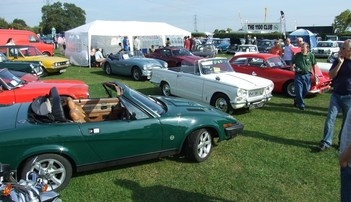 The annual sausage & mash night is always popular and this year was no different. Once again George did a great job organising the evening and provided us with a new venue. More than forty members filled the function room at the Crown, Sandon where we were served top quality bangers.
Fitting everyone in was a squeeze but this meant there were plenty of people to chat with as we sat at our places. As usual, spare bangers were sent Paul's way and he managed to finish off seven of the top quality bangers.
The staff of The Crown did a good job making sure everyone had everything they wanted and I'd certainly recommend the service and food.
Well done George. Another good night out enjoyed by everyone.
On- line membership up and running
New members can now join on-line using Paypal and most major credit cards. The cost of £26.50 includes a surcharge of £1.50 to cover costs. We have had to do this because the club operates on a very tight budget to ensure that members get the most from their subscriptions. To avoid the extra charge it is still possible to apply using the down-loadable application form accompanied by cheque payment. If you would like to join on-line click HERE
Although so close to where many of us live, few had even heard of Barnards Farm so we were not sure what to expect. I can happily report that this place is a gem for anyone interested in cars, gardens and sculptures.
We were allowed to enter and park our cars at mid-day, a full two hours before the general public are admitted. This gave us time to arrange our cars and explore the gardens before they became busy. At 2pm the gates were opened as were the doors to the Barnards private vehicle collection. The collection was larger than we had imagined and the quality of every vehicle was outstanding.
Later, some of our group took the guided tour of the large grounds while others made the most of the shady trees. This was after all the hottest day of the year so far with the sun beating down all day.
There was far too much to include in this short report. The vehicle collection and gounds were excellent and I'm sure we'll return again next year. If you didn't make the trip this time I thoroughly recommend a visit.
You can see a video of the day produced by "Your Thurrock" HERE. CTE cars feature at the 2 minute mark.
A large group of CTE members made the trip to this years Circuit Historique de Laon and enjoyed a weekend of sunny weather. Saturday saw the group touring the French countryside and Sunday was spent driving the streets of Laon and mingling with hundreds of classic enthusiasts.
A lovely day was had by all who joined up with TSSC club. We all met up at the Half Way House on the A127. On arrival we were give a rally plate for the front of our cars, a route book and voting slip to vote for our favourite car. All vehicles set off at approximately 1 minute intervals. The run was about 20 miles ending up at the Meadowcroft Garden Centre for afternoon tea.
Thankfully the sun shone for us all. It was a really lovely day. The best car was won by our very own Paul Bagshaw for his TR. Thanks go to John from the TSSC club for arranging such a lovely run and for inviting us from the Club Triunph Eastern to join them.
Inter-Club Quiz Night 19th February
Over one hundred classic car enthusiasts filled the Shepherd & Dog for the Inter-club quiz night in aid of The Essex Air Ambulance Service. The quizzers represented six local clubs and friendly rivalry was encouraged. There would be a trophy for the winning team and a wooden spoon for the team in last place so there was club pride at stake.
There were six rounds of general knowledge questions and the pub fell silent as everyone concentrated on the questions.
Finally with all questions answered the place became very noisy as cheers rang out as each teams score was read out.
The winning team was "The Four Trumpets" and the winners of the wooden spoon were "The Over 50s". Both teams were representing Club Triumph Eastern. The awards were presented by our host Simon, landlord of the Shepherd & Dog.
With the entry fees, donations from food sales and takings from the raffle we raised a total of £470 on the night and r
epresentatives of all six clubs presented the cheque.
The clubs attending were the Chelmer Valley Meet, TSSC Essex Group, TR Register Essex Group, Essex Imp Owners Club, Club Triumph Essex Group and of course Club Triumph Eastern. Thanks to everyone for their generosity and for making it a great night.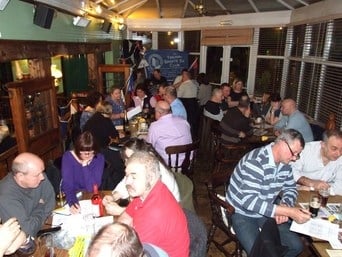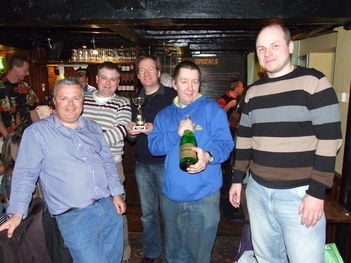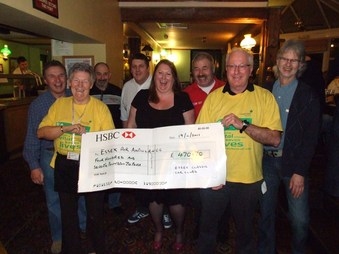 More photos
HERE
After a blast up the A12, I arrived at Boreham services to find Richard and Jackie and Peter and Chrystal waiting in the car park, shortly afterwards Graham and Arlene arrived in the Vitesse.
After a while Tony B arrived in the MKIII Spitfire and led us across to the pub. When we arrived we found several other club members waiting for us in the bar. I think there were 23 of us altogether.
Arlene had organised a Valentine themed quiz which kept us all occupied between courses. Well done to Ken and Chris who scored the most points and won some chocolates, which they very kindly shared out amongst us all.
It was lovely to have a nice relaxed lunch and be able to catch up with everyone again. Many thanks to Tony for organising everything.
Karen
New Year 2011 Run to Finchingfield
It was a lovely bright sunny morning, but still very cold - several of the smaller roads were still covered in frost which made for a bit of a hairy journey in the TR7.
When I arrived at the pub, the car park was full, but fortunately the landlord was outside and allowed me to park in front of the gates which were cleared marked "do not park here"! It was nice to see a few other Triumphs in the car park.
The food and service were really good, and the open fire in the restaurant was very welcome. It was great to have a catch up with everyone after the festive break and start planning trips and events for the summer.
After lunch several members had a wander round Finchingfield before heading home. I decided to set the sat nav to shortest route and see where it took me. At one point I found myself on a single track road with grass growing in the middle of it!
The AGM of Club Triumph Eastern took place on Thursday 6th January with approximately 40 members present.
The existing committee who were prepared to stand again we all re-elected, they are as follows:
Shows Organiser Tony Bocarisa
Membership Secretary Graham Chambers
Advertising Officer Andrew Fisher
IT Officer Jamie Hill-Lonergan
Karen Jones confirmed her decision to resign from the position of Magazine Editor after 15 years. This left three vacant positions: Chairman, Magazine Editor and Social Secretary.
Karen Jones was elected as the new Chairman.
Unfortunately, there were no volunteers for the positions of Magazine Editor or Social Secretary. The committee will be looking into alternative options for the magazine production.
The AGM was concluded with a free raffle.
NEC Classic Car Show 2010
I met up with the others at 7am in Gt Leighs and we set off in the minibus for the NEC. After a slight detour (only a small one this time!) we parked up and made our way into the show.
There were 5 halls crammed full of gorgeous cars - just about every model you can think of was on display. From Audis (including the Quattro that was used in the filming of Ashes to Ashes) to Skodas and everything inbetween. There were plenty of Triumphs on the various club stands - it was great to see Peter's Peerless on the TR Register stand creating a lot of interest and looking absolutely fantastic.
I think my personal favourite was the Maseratti display - they were all set out as if they were on the starting grid of a race.
Also on display were a couple of F1 cars - the Brawn from last year (but in Mercedes livery) and Ayrton Senna's winning Renault.
Stirling Moss was at the show all day and we were lucky enough to get close enough to get a couple of good photos of him.
I thoroughly enjoyed the day and am looking forward to next year's show already.
The AGM of Club Triumph Eastern took place on Thursday 6th January with approximately 40 members present.
The existing committee who were prepared to stand again we all re-elected, they are as follows:
Shows Organiser Tony Bocarisa
Membership Secretary Graham Chambers
Advertising Officer Andrew Fisher
IT Officer Jamie Hill-Lonergan
Karen Jones confirmed her decision to resign from the position of Magazine Editor after 15 years. This left three vacant positions: Chairman, Magazine Editor and Social Secretary.
Karen Jones was elected as the new Chairman.
Unfortunately, there were no volunteers for the positions of Magazine Editor or Social Secretary. The committee will be looking into alternative options for the magazine production.
The AGM was concluded with a free raffle
Battlesbridge Motorbilia Day Sept 2010
Although the rain held off until about 3pm it was pretty cold and windy all day. Compared to last year numbers of cars were down but there was still a good turnout. On our stand we had fourteen cars and Peters Peerless attracted a lot of attention, as it should.
The stand looked good with so many lovely cars and we were busy with visitors all day.
As ever, Paul & Tony were busy cooking bacon and sausages for any hungry members. The sausages were particularly well done.
For various It's been a few years since I've been able to participate in the Colchester Castle Park show - last year because I didn't have a car, and prior to that because it always seemed to clash with something else.
Well, this year, as it didn't clash with anything and as I only live about 1/2 a mile away (if that!) I thought there was no excuse.
The weather was absolutely beautiful, but I have to admit I was lazy and didn't bother taking the roof down - it just didn't seem worthwhile.
It was a very relaxing day with lots of cars on display that you don't usually see at the other shows. The TR Register very kindly invited me to join in their display, but as I'd arrived quite early my car had already got blocked in by that point.
Jim & Sue and Chris & Freda were invited to take their cars into the arena and give a little bit of commentary on their history.
All in all it was a lovely day, and definitely one for the calendar for next year.
Karen
CTE Summer Fayre & awards presentation August 2010
In the region of 50 club members and friends gathered together for a relaxing afternoon. A huge thank you to Graham, Phil, Tony and Richard for cooking all the meat and to Lisa, Annette and Jenny for their help with the salads and cakes.
The fun and games began after the bbq. Richard and Jenny had brought along a couple of games which kept us all entertained, and the children enjoyed badminton, swing ball and football.
After that there were the awards presentations for last year. The winners were :-
Car of the year non-Triumph Chas & Sheila Seymore's Ford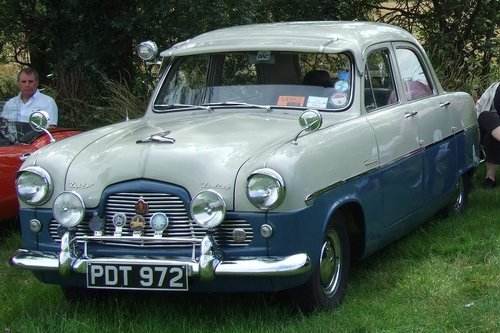 Car of the year Triumph Peter Hudspith's TR4
Special Effort Phil & Annette Brown
Dipstick Ann Reed
Clubman's Award Andy Fisher
Premium Award George Bentley
The awards were quickly followed by tea & cakes and all in all it was a great day, definitely one for the diary for next year
I clambered out of bed early to polish the TR7 before leaving for the show (it was still covered in dust from Le Mans). The 3½ mile journey was a doddle, although I did smile when I reached the roundabout outside North Station at the number of classics approaching me from all directions. By the time I pulled into the show site there was quite a queue following me.
As I was driving across the main field I saw George and Doreen were already in position and shortly after I parked Chas and Sheila parked up next to me, quickly followed by Phil and Annette and Jim and Sue. Later in the day we bumped into Wayne, good to catch up with you again Wayne.
After a bit of a dull start and a quick shower, the weather improved and in the afternoon it was quite warm.
The show was the usual mix of classic cars, motorcycles, commercial vehicles, tractors, stalls and events in the arena to keep us all entertained and even a fly past in the afternoon by what I'm reliably informed was a Lancaster.
Karen
We definitely couldn't have asked for better weather for the weekend, it was perfect topless weather all weekend (apart from a couple of showers overnight). The journey down to Dover was fine (albeit a very early start) and the journey through France to the gites was uneventful, apart from a slight misfire from the TR7.
On the Friday we hit the track and had a good look round the paddocks before returning to the gites for a group BBQ (after temporarily fixing a broken TR7 in the supermarket carpark!)
On the Saturday (after major surgery on the TR7) we set off for the track and the start of the racing. Again this year we managed to grab a good position in the Dunlop grandstand and watch the racing. There were a few spins and slides round the Dunlop esses, but no-one came to any harm. The heat got the better of us and we didn't see much of the night racing at all, but headed back to the circuit on Sunday for the close of the racing.
All in all it was a good weekend and I'm definitely up for the next one!
Motorsport at the Palace 2010
May bank holiday weekend saw motorsport back at Crystal Palace for the first time in ten years. Organised by the Sevenoaks and District Motor Club this was a sprint event with each entrant having three timed runs. We went on the Monday as this was the day that would see the classics racing. The entry list was mainly cars of the 60's, 70's and 80's but there were some earlier cars and some more modern models as well as a few electric sports cars.
The surroundings were as beautiful as the cars and large crowds enjoyed the sight of these lovely cars being driven as hard as the owners dared. This will now be an annual event and we will certainly be there next year. This is definitely one for the diary. See the video HERE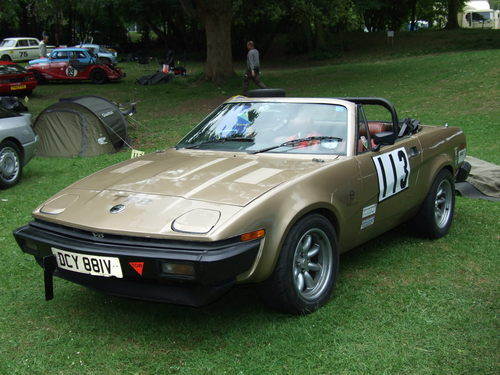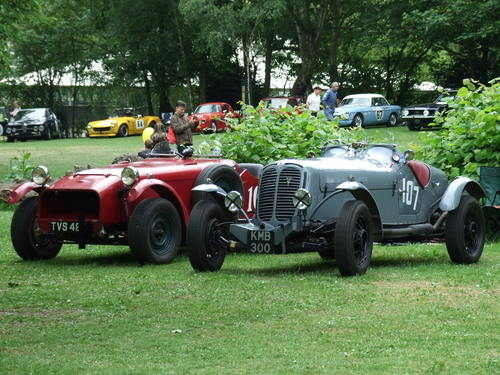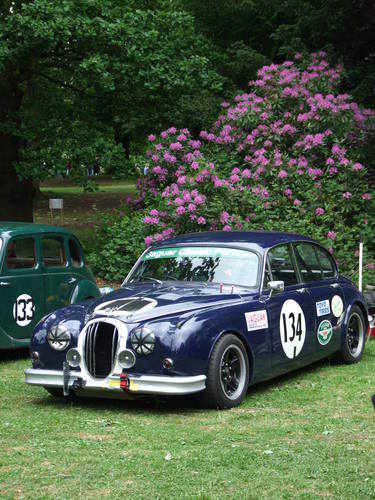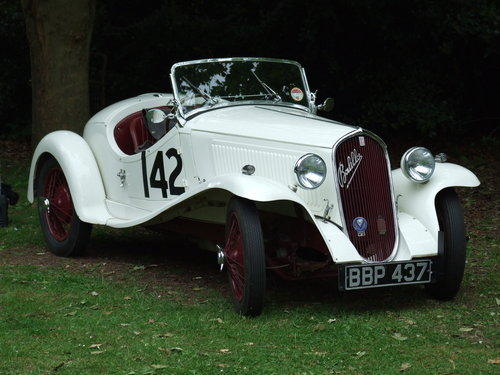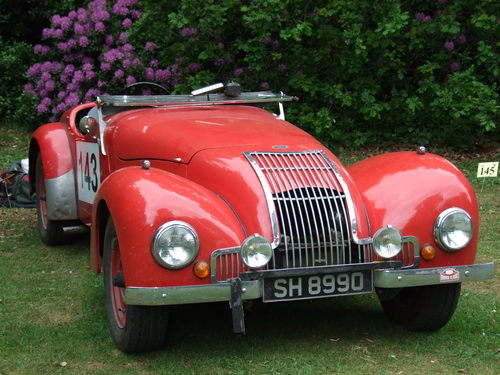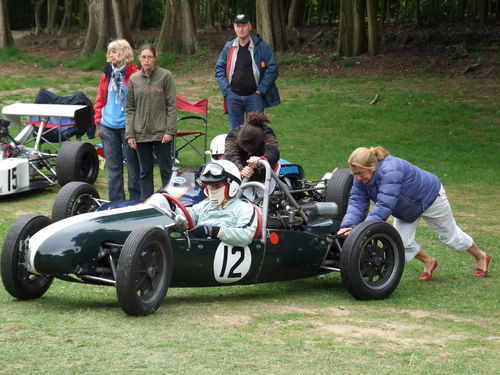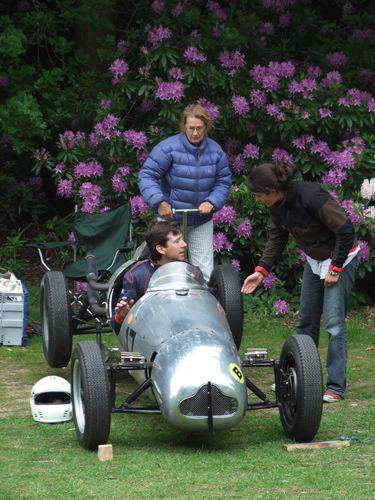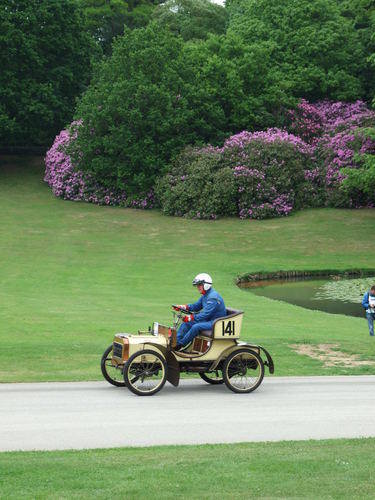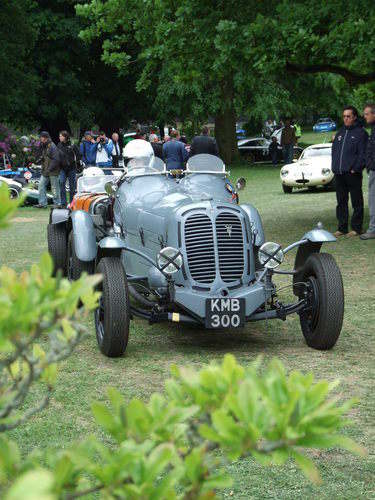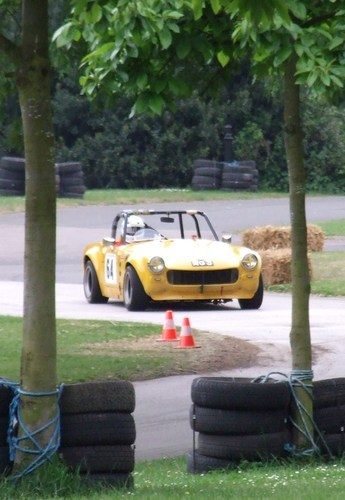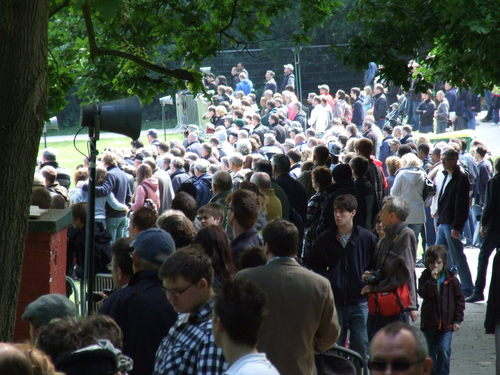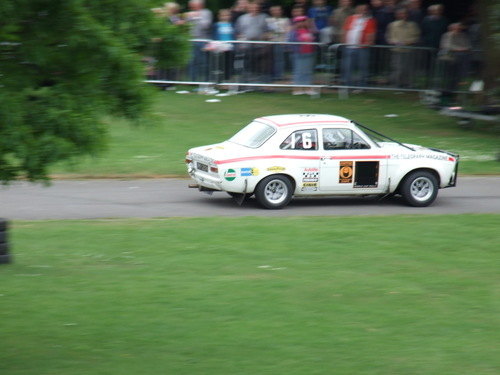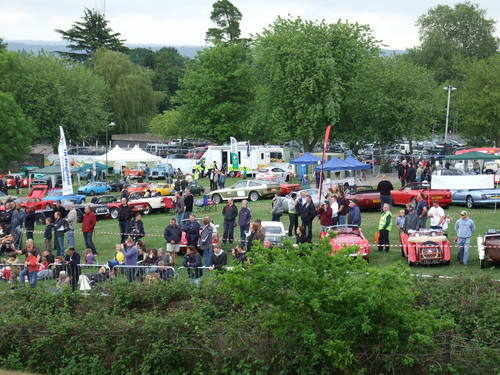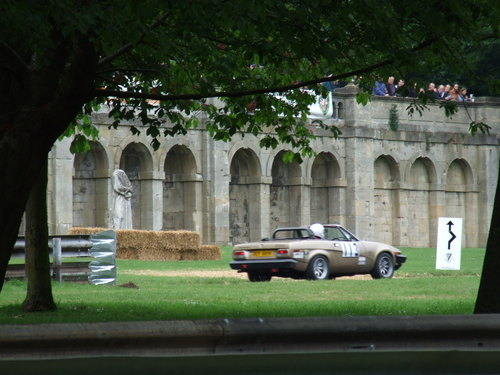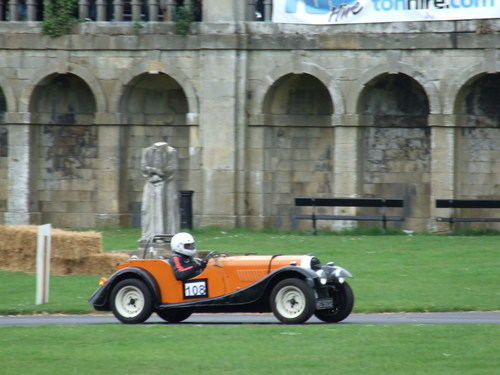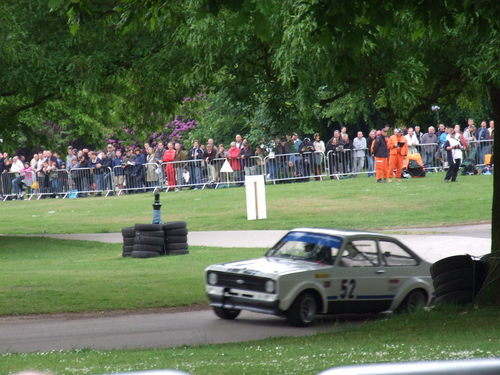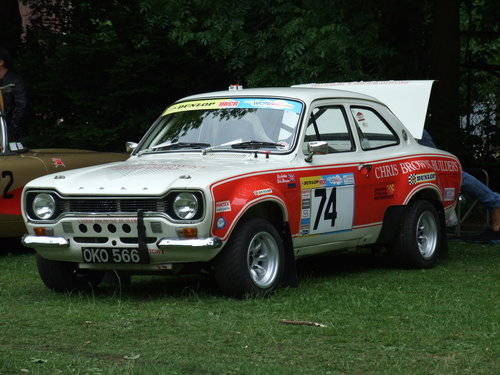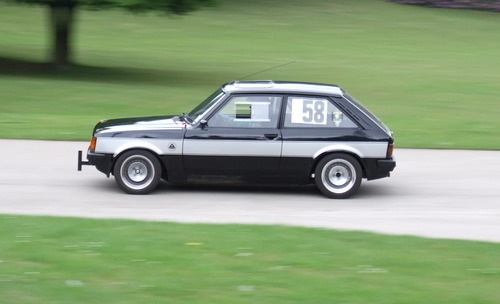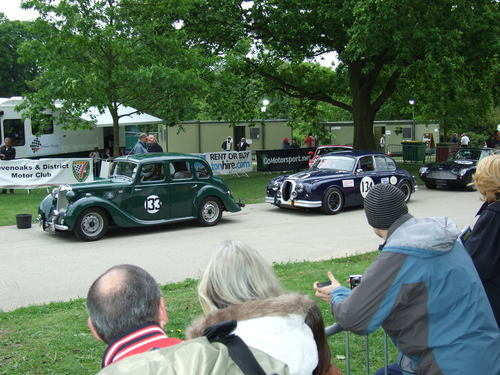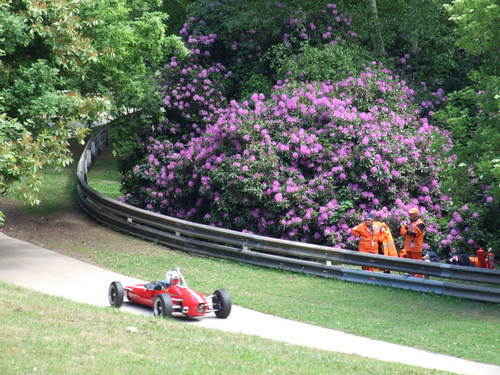 What a cold day it was. We spent a lot of the day sheltered in the marquee wrapped in blankets. Unfortunately because of the weather numbers were down on the usual turnout for this show but there were still a good number of very nice cars on display. We had thirteen cars on our stand including new member Dave's very nice Dolomite.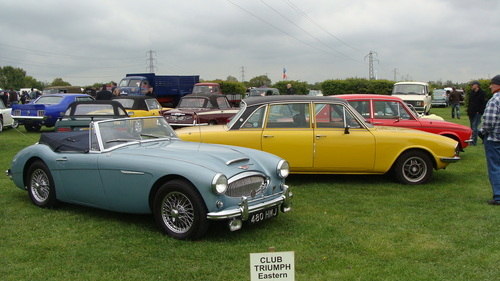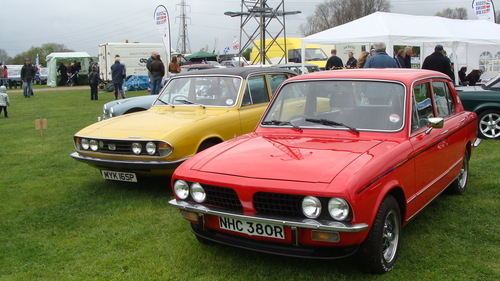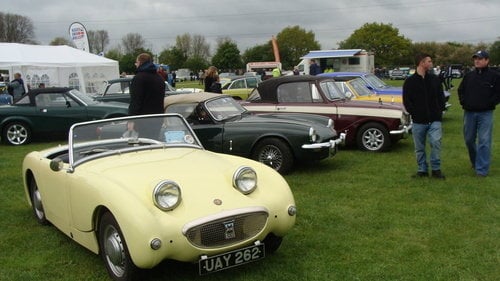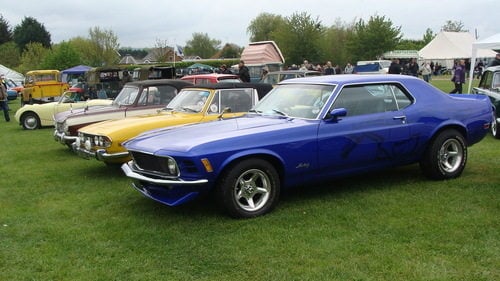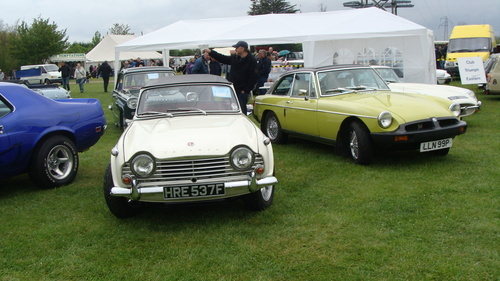 Air Ambulance Cheque Presentation
At the clubs March meeting we were pleased to be able to present the Essex Air Ambulance Service with a cheque for £700. This money was raised by donations from members, raffles and at the clubs family fun day which is held annually in aid of the air ambulance. The cheque was received by air ambulance volunteer Teresa James with around fifty club members present.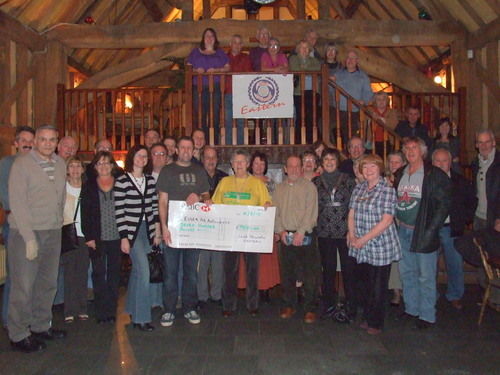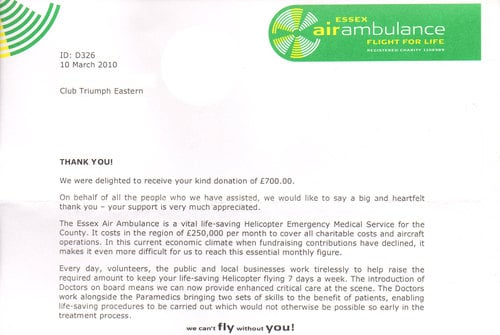 A beautiful spring morning, perfect top down weather - well I thought so, although none of the others were "topless".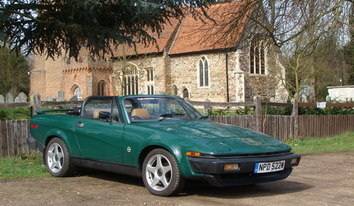 The cars all set off from the diner between 10:30 and 11 having worked out their route round the churches. I set off with a plan of going to two or three of the churches on route and taking some photos. Although that plan didn't work - I only came across Graham and Arlene leaving Galleywood as I arrived!
Everyone made it to Heybridge Basin without too many difficulties, although the accident in Danbury caused a bit of a delay and there were lots of pot holes on the way round too. I had four answer sheets handed in with the winners being Phil and Annette Brown who were joined by Clive Sharpe. They obtained a total of 13 out of 14 points. Well done guys.
Battlesbridge grand motorbilia day September 2009
Brands Hatch September 2009
CTE 50th anniversary garden party 2009
Circuit Historique de Laon 2009